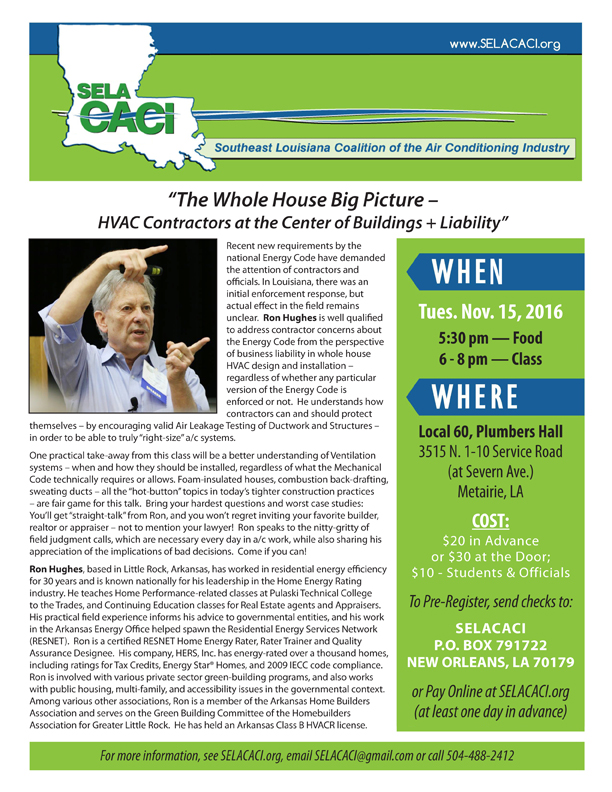 Recent new requirements by the national Energy Code have demanded the attention of contractors and officials. In Louisiana, there was an initial enforcement response, but actual effect in the field remains unclear.  Ron Hughes is well qualified to address contractor concerns about the Energy Code from the perspective of business liability in whole house HVAC design and installation – regardless of whether any particular version of the Energy Code is enforced or not.  He understands how contractors can and should protect themselves – by encouraging valid Air Leakage Testing of Ductwork and Structures – in order to be able to truly "right-size" a/c systems.
One practical take-away from this class will be a better understanding of Ventilation systems – when and how they should be installed, regardless of what the Mechanical Code technically requires or allows. Foam-insulated houses, combustion back-drafting, sweating ducts – all the "hot-button" topics in today's tighter construction practices – are fair game for this talk.  Bring your hardest questions and worst case studies:  You'll get "straight-talk" from Ron, and you won't regret inviting your favorite builder, realtor or appraiser – not to mention your lawyer!  Ron speaks to the nitty-gritty of field judgment calls, which are necessary every day in a/c work, while also sharing his appreciation of the implications of bad decisions.  Come if you can!
Ron Hughes, based in Little Rock, Arkansas, has worked in residential energy efficiency for 30 years and is known nationally for his leadership in the Home Energy Rating industry. He teaches Home Performance-related classes at Pulaski Technical College to the Trades, and Continuing Education classes for Real Estate agents and Appraisers. His practical field experience informs his advice to governmental entities, and his work in the Arkansas Energy Office helped spawn the Residential Energy Services Network (RESNET).  Ron is a certified RESNET Home Energy Rater, Rater Trainer and Quality Assurance Designee.  His company, HERS, Inc. has energy-rated over a thousand homes, including ratings for Tax Credits, Energy Star® Homes, and 2009 IECC code compliance.  Ron is involved with various private sector green-building programs, and also works with public housing, multi-family, and accessibility issues in the governmental context.  Among various other associations, Ron is a member of the Arkansas Home Builders Association and serves on the Green Building Committee of the Homebuilders Association for Greater Little Rock.  He has held an Arkansas Class B HVACR license.
WHEN:  Tues.,  Nov. 15, 2016 — 5:30 pm – Food / 6-8 – Program
WHERE:  Local 60 – Plumbers Hall, 3515 N. I-10 Service Rd W (at Severn Ave.), Metairie
Please note:  Advance registration on-line is $20 (plus a $1.49 processing fee) until midnight the day before the event.  Students and Code Officials can register for $10 (plus a $1.24 processing fee).
Payment will only be taken at the door on the day of the event.  The price is $30 on the day of the event — by cash, check, or credit card.
If you would prefer to register in advance by mail, please send a check for $20 to SELACACI, P.O. Box 791722, New Orleans, LA 70179.
Code Officials & Home Inspectors can use CEU credits from SELACACI programs as applicable for their professional purposes.  Builders, architects, insulation contractors & others are always welcome.  Please help us spread the word so that these volunteer-organized programs can have maximum educational impact.

SELACACI Holds Monthly Heatload Workshops
Tues.,  Dec. 6, 2016  —  Heatload Workshop  —  5 pm – 7 pm  —  Professor Kenneth Ripberger will be available, this time at a different location, due to the unavailability of our normal meeting place:  Delgado Community College's Jefferson Campus, 5200 Blair Dr. (off Airline Hwy. west of Transcontinental), Building B, Room 2. Personalized orientation, skill-development, & problem-solving involving Computerized Heatload Analysis.  This is a regular event held on the First Tuesday of every month.  Free help & advice!
In order to provide a way for HVAC contractors to learn skills using heatload software and to improve sizing calculations, SELACACI has been hosting monthly gatherings on this subject.

The regular time & meeting place is the first Tuesday evening of each month from 5 pm – 7 pm in Mid-City New Orleans, at the Rosa Keller Public Library — 4300 S. Broad Street (at Napoleon & Fontainebleau).
If you're new to computerized heatload analysis, the workshop will offer orientation.  If you want to develop your skills further, you'll be in good company.  The newly renovated building is LEED-certified, with plenty of space (kitchen available with microwave) and a welcoming staff.
Each month, these networking sessions have grown more popular, and there is potential for small groups of participants to spread out to other rooms in the Library.  Given the competitive nature of the industry and the  investment of time necessary for contractors to properly go through all the steps of Manual J (A/C Sizing) & D (Duct Sizing) & S (Equipment Selection), it's critical for technicians to understand the various steps in the process and to know to what degree shortcuts may or may not be acceptable — to avoid problems with the actual installation.
This effort is not meant to take the place of heatload software training courses, but rather to provide an ongoing forum for the exchange of information, promoting maximum productivity.  Come & Bring Your Hard Questions!
There is no charge for these informal meetings; they are not a "class" per se (but you might learn as much as in a class).  To receive monthly email confirmations of SELACACI's Heatload Workshops, join SELACACI's listserv if you're not already on it.
Thanks!

SELACACI's Board invites your input & ideas as it develops its programs for 2016.
Stay tuned to this website's Resources page for updates as more Parishes announce their implementation of the 2009 Energy Code provisions on duct testing, etc.